Katti House II... Comfort and warmth in the heart of Florence!

Katti House II and Mrs. Annamaria welcome you in this beautiful city, Florence, cradle of the Renaissance and the mother of art, history and culture.

Our B&B is located in the heart of Florence, in a building with elevator halfway between the railway station Santa Maria Novella, Fortezza da Basso, base of the business and the city's most famous monuments and artistic wonders that the entire world envies to Florence.

Discover Trattoria Katti!
Special Discount 10% for our guest!

Visit the Site
From Tripadvisor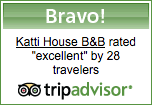 "Wonderful B&B and restaurant!" It is a really good B&B with eccellent position and nice rooms! only 5 mins walk to the train station and right in the centre of Firenze. it is also easy to walk to every sightseeings!!
The room is really big and chear, especially the bathroom. All this B&B is just give u a feeling about back home.